Buy Your Next Set Of Touring Tires at All in All Automotive
Buy Your Next Set Of Touring Tires at All in All Automotive
At All in All Automotive we know performance. Performance cars and trucks need a set of tires that offer a better grip and handling. A touring set of tires is designed to deliver both a comfortable ride and more responsive handling than traditional all-season tires on Livonia roads and the highway. Luxury versions of touring tires offer extra layers of rubber cushion to reduce road vibration and impacts. Visit All in All Automotive today at 34957 Plymouth Rd and let us help you find the perfect touring tires for your vehicle at an affordable price.
The excellent handling and performance of touring tires are attributed to specially engineered asymmetrical tread patterns. Touring tires also sport a higher speed rating than all-season tires. In rainy conditions, a touring tire leverages deep grooves and blades to channel water away from the tire. With wear, the tire tread blades become more shallow and will open up to become wider grooves. Grooves widen to help displace water on the road as your tire wears.
Affording a new set of touring tires has never been easier at All in All Automotive. Touring tires cost more than all-season tires but the price of a set of touring tires may be less than you think with manufacturer rebates. Most name-brand tire manufacturers offer rebates off the price of touring tires. This helps you keep the cost of a new set of tires low.
Give us a call today at 734-436-1606 and ask us about the cost of a set of tires with a manufacturer rebate. Our tire specialists are here for you.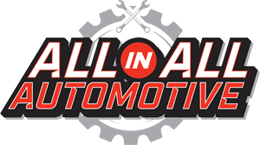 Suspension and Steering
, near Canton, Michigan
I brought my truck into All in All Auto after noticing I had sound coming from the front end of my truck. Jacob was quick to diagnose my problem and fix it in a timely manner. Through out the process I received phone calls to let me know what was going on and pricing, and he kept me in the loop through it all. I appreciated his honesty and efficiency. I will continue to bring all my vehicles here for any and all work they will need.
Rick
, 02/09/2023